You are possibly not the only one looking for the best speakers for Jeep Wrangler sound bar. After all, there isn't any Wrangler owner who doesn't want to boost the speakers' quality and take the sound level to the next level. 
Best Choice
Good Choice
Don't Miss
Also Consider
Mopar Jeep Wrangler JK Kicker Speaker Upgrade
Rockford Fosgate P1675 Punch 6.75" 3-Way Coaxial Full-Range Speakers - Black (Pair)
Polk Audio DB522 DB+ Series 5-1/4" Coaxial Speaker for Car & Marine, 2-Way Boat & Car Audio Speaker,...
Plug & Play High Definition Replacement Sound Bar OR Dash Speaker Kit Compatible with Jeep JK...
Best Choice
Mopar Jeep Wrangler JK Kicker Speaker Upgrade
Good Choice
Rockford Fosgate P1675 Punch 6.75" 3-Way Coaxial Full-Range Speakers - Black (Pair)
Don't Miss
Polk Audio DB522 DB+ Series 5-1/4" Coaxial Speaker for Car & Marine, 2-Way Boat & Car Audio Speaker,...
Also Consider
Plug & Play High Definition Replacement Sound Bar OR Dash Speaker Kit Compatible with Jeep JK...
In today's age, we can see a massive technological change where everything is getting upgraded. Similar things can be said about Jeep's sound systems and speakers.
So, if you haven't upgraded the speakers of your Wrangler sound-bar yet, this is the high time to do it. 
Best Speakers for Jeep Wrangler
Top 10 Best Speakers for Jeep Wrangler Sound Bar
The best part is upgrading the speakers isn't going to make a hole into your pocket! There are a few options that are available for you. You can either replace all the speakers in the sound-bar or replace the entire bar itself.  
In case replacing the speakers is what you have chosen, here is a brief guide for you: 
01. Rockford Fosgate P1675 Punch Pair 3-Way Full-Range Speaker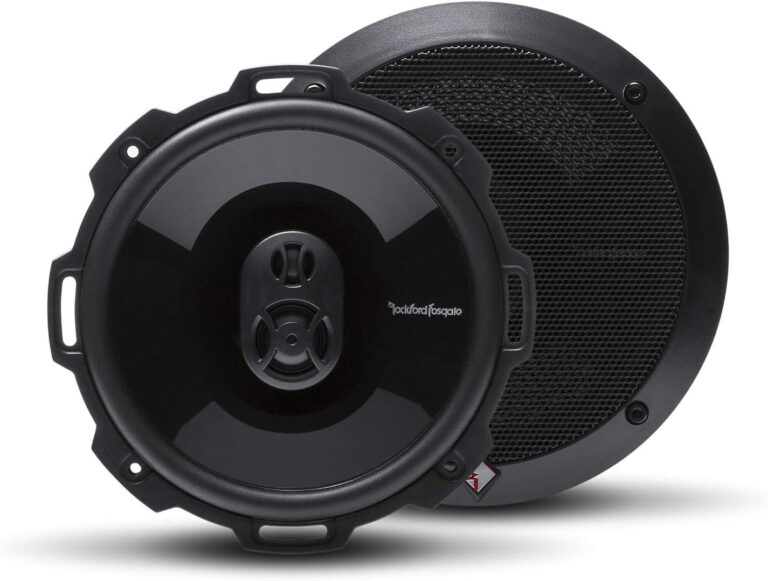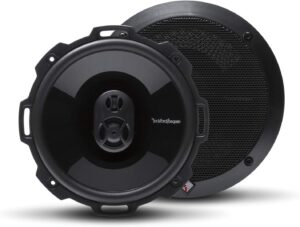 The P1675 is a full-range speaker (three-way, 6.75"), which is a guarantee of top-quality of sound that will simply blow your mind. These are a pair of speakers that can handle the power of 60 watts, which can go up to 110 watts maximum. 
These speakers consist of grilles, an OEM adapter plate, and hardware for mounting as well. Alongside this, the others they have include PEI dome tweeter, in-built tweeter crossover, and mineral-filled polypropylene cone (injection-molded), etc. 
These speakers come with positive terminals (0.25") and negative terminals (0.187").   
Sound Quality
The quality is a supreme due to butyl rubber surround due to which the output generated will be something which will give ultimate pleasure to all music-lovers. This surround ensures that you get a best-quality frequency response, no distortion, and high reliability. 
Tweeters
If we talk about the tweeters, a couple of them are made with Poly-Ether-Imide (PMI), with 1/2 inch and 3/4 inch domes. The Poly-Ether-Imide is a film that generates a broad soundstage for high-class imaging.
VAST Surround
The VAST or the Vertical Attach Surround Technique helps to enhance the radiating cone area, without enlarging the basket's size. 
The Flex-Fit Basket
It is another useful feature of these speakers. This frame (FlexFit) makes use of slots, where it can be used, as opposed to holes (single screw size). This enables to adjust the speakers slightly while mounting them.  
The Stamp Cast Basket
These speakers from Rockford also come with steel baskets to add more rigidness to it. Such a feature is an added strength to the P1675 speakers. 
Brackets
The speakers have in-built generic brackets which you can alter depending on the way you mount them. It is a feature that is an indicator of the flexibility of this product. Make sure you modify fitting the P1675 in it. 
Pros
It has woofers and crossovers

Included hardware for easy installation

High-frequency output
Cons
Sound Terminals are too large (oversized)
02. Moper High-power Jeep JK Kicker Speaker Upgrade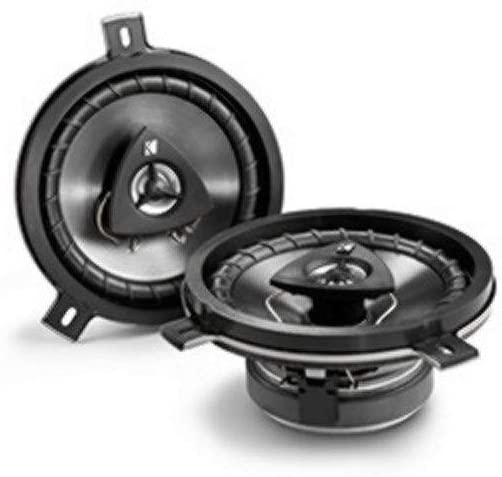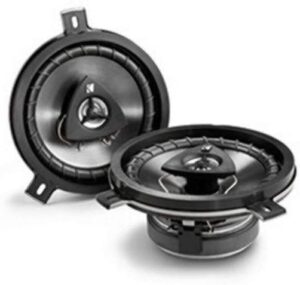 These speakers are of the fantastic ones which can give you dynamic hearing experience. They are now available for all Jeep Wranglers from 2007 to 2010, for two or four-door owners. 
Made by the manufacturers from the Mopar brand, this item includes speakers of measurement of 6.5" (Door). It is quite light in weight, weighing as many as 6 pounds and these speakers can handle continuous power of 75 Watts.
The output power is outstanding, making it one of the best speakers for the Jeep Wrangler sound bar, which is 150 Watts. Just upgrade your car music system with these speakers and plug-in for some fascinating music.
Add More Bass to Your Sound
Maybe these speakers won't make the crowd go wild; however, they can certainly add more bass in your music system. Its high-frequency output will make you feel the heat!
Upgraded Factory Speakers
This upgrade has ensured that the speakers are more "in-depth" when you talk about the quality. The sound quality produced through them is crystal clear, and hence they are quite soothing to the ear. It is something that you and your companions inside will thoroughly enjoy.
Works Well with Different Applications
The kicker speakers make use of injection cones that highly rated and also rubber gazing. These are suitable speakers for all Wranglers since they run very efficiently while handling different tweeters, woofers, crossovers, etc.
Easy to Install
Not only these speakers come with a terrific sound quality, but they are easy to install as well. If you are willing to spend about half-an-hour, you can get through to the installation process easily. 
Plug'n'Play
What most people want with their speakers is just "Plug-n-play" after installation. These speakers offer you just that! Just install and start playing your music. You don't need to worry about different cables or switches to make it run!
Pros
Best-quality bass in the sound

Can handle high power

Easy to install

Simple plug-n-play
Cons
03. JBL GTO629 Wrangler Premium 6.5-Inch Co-Axial Sound Speaker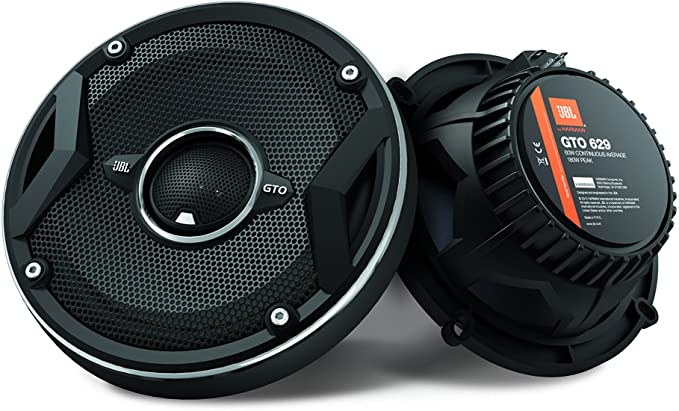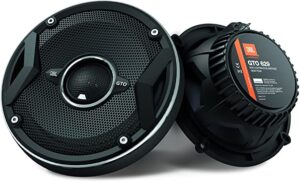 If you are looking to upgrade your current speakers, there is none better than the JBL GTO 629. Because they are made of cone material (carbon-injected), it produces music of the highest quality which you have desired for long.
There are as many as three voice coils (ohm) in these speakers, which enable the speakers to rub at 4-ohms once you have powered it on. Hence, the speakers can now utilize every single power watt which your unit or the amplifier can produce. 
Another feature of this product is that, alongside a highly capable thermal coil, they vented magnet, which ensures smooth dispersion of heat. This ensures the longevity of the speakers. The speaker's cones are edge-driven, which can generate higher levels of sound at a similar amount of power.
High-frequency Response
The JBL speakers generate a high-frequency output, which will have a smooth effect on your ears while listening to any kind of music. Quality-wise, these speakers are indeed the ones that you need.
Reliability
When it comes to reliability, the GTO629 is something worth trusting. The speakers have non-magnetic frames, which are carbon composite, and it makes them run well under any situation.
Crossover Components
These speakers have high-graded crossover components, with a 12 dB/Octave (dedicated) that maintains the balance of sound appropriately amongst speakers to get the best of sounds.
Tweeter Setting
The tweeter volume level (dual-level) can be adjusted to ensure that your speakers are aligned perfectly for an ultimate experience as per your taste of music.
Additional Hardware for Mounting
The GTO629 comes with additional sets of adapter rings for mounting, enabling the speakers to fit into any openings of factory speakers, which matches the size of it.
Besides, the black metal grilles of this item help protect them while mounted in a spot that needs a grill.  
Pros
Produces high-quality of sound

Durable and have a longer life

In-built hardware for mounting
 Cons
Bass can sometimes be problematic
Learn more about: Best Steering Stabilizer for Jeep JK
04. Rockford Fosgate Prime 6.75-Inch Full Range 2-Way Jeep Wrangler Coaxial Speaker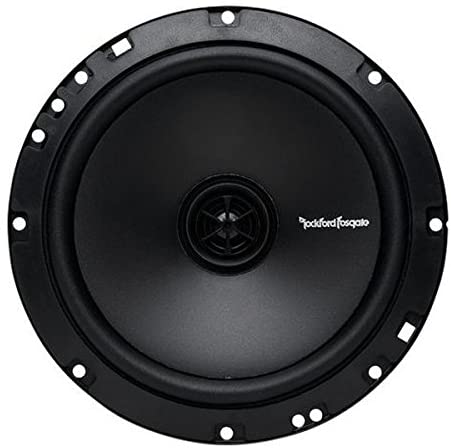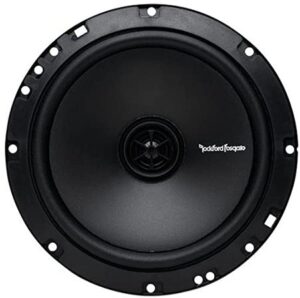 One of the benefits of the speakers is that it is available in different dimensions. This means that these speakers are available in many options, which are suitable for any Jeep. The R1675X2 Prime consists of a polypropylene cone.
It enables you to generate a sound that just clicks your brain. The surround is rubber audio, which helps the cone's motion. This is what makes the speakers unique.
High-frequency Response
The Rockford speakers are built to produce high-frequency sounds. Once you have installed them in your Jeep Wrangler, you will get to know that it has undoubtedly made a marked difference to your listening experience.
High-class Crossovers
The product comes with a crossover that is unmatchable in quality. These devices ensure that there is hardly any sound distortion once you are enjoying your favorite tune. 
Multiple Components
Many components accompany these speakers. These include several woofers, crossovers, mid-range drivers, etc. All of these combined, you will enjoy a fantastic sound, once you tune-in.
Lightweight
You can find it challenging to install your speakers in the Jeep if they are too heavy. But, this is not the case with the R1675X2 Prime; it's quite lighter in weight, which ensures that you can install them easily in any Jeep Wrangler according to its size.
Safety
The crucial safety part is what these speakers bring with them. They are made with high-graded grilles for safety purposes. These grilles act as a protective gear for the speakers.
They won't allow any outside elements to get inside and damage the efficiency of the speakers. 
Included Hardware
To help you in mounting the speakers, they have all the mounting hardware included, which means you don't need to waste time in the installation process. Just follow the manual and set-up your speakers in the soundbar speakers for some mind-blowing music. 
Overall, this is a unit that is worth trying for your Wrangler! 
Pros
Audio is quite remarkable

Can manage 40 Watts RMS

Crossovers prevent distortion 

Consists of a polypropylene cone
Cons
Speakers can deliver damaging results
05. Rockford Fosgate R165X3 6.5-inch 4 New Combo 180W Coaxial Speakers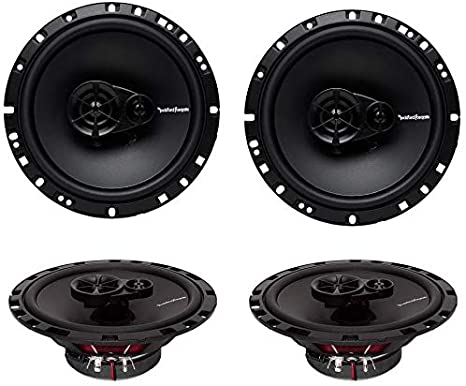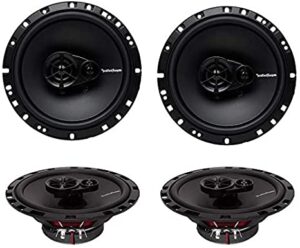 The R165x3 is another top-quality speaker from Rockford, which is worth trying for your Wrangler. These speakers are also famous for their music quality, as many Jeep Wrangler owners have acknowledged.
They are also not heavy, which means you will find it easy to install them in your speaker. If you are looking to have a speaker of 6.5 inches, these speakers from Rockford will undoubtedly fit your needs.
They will certainly offer you an enjoyable experience, if not an ever-lasting one.
The Looks & the Dimensions
Firstly, the appearance of the speakers looks quite appealing. The dimensions are also acceptable (8.1×7.1×10.9), making it entirely adjustable to any Jeep depending upon its fittings. 
The Hardware
The R165x3 is a three-way speaker, and it accompanies several woofers, tweeters, and midrange drivers too. This will ensure that you get a surround sound experience once you are in a drive.
Well-built
Apart from being lightweight, these speakers are quite robust, which is due to the best-quality material (elastic polypropylene) used to manufacture it. 
Safety
You'll find that these speakers are surrounded by steel frames to protect them from any damages. Apart from this, there is a surrounding rubber for its protection and enhancing its working life.
Crossovers
Like most other speakers from the Rockford series, these speakers also have crossovers that ensure that you face no sound distortion while enjoying your music.  
Tweeters
The speakers have a flat-back tweeter whose design adds an exceptional look to them. It is one of the primary reasons for its demand. 
Best for the Try
If you haven't bought these speakers yet, the R165X3 isn't a wrong choice for you either. If you have known about the overall features of it, this new edition from Rockford certainly comes with more enhanced elements for your pleasure.
Pros
Well-built and hence guarantees longevity

Crisp sound

Fits in any jeep
Cons
Distortion in high-volume level

Bass is lacking sometimes
06. JBL GTO609C Jeep JK Premium 6.5-Inch Component Speaker System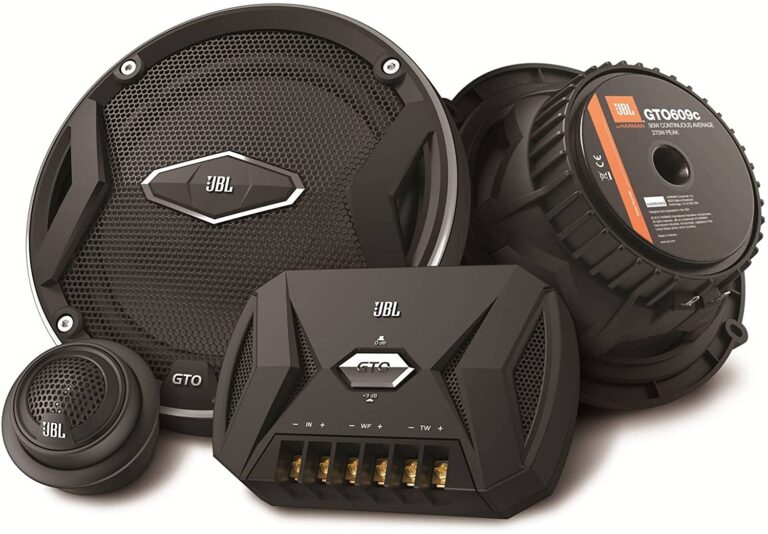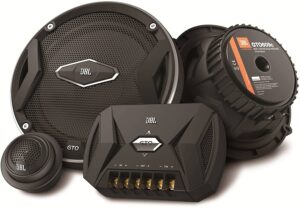 The GTO609C is a premium speaker from the JBL series. The system has a couple of woofers, crossovers, and tweeters which promise to deliver premium quality sound.
The coil has an impedance of 3 ohms, which ensures you get a very powerful sound. For precise sound imaging, some crossovers ensure it happens.
Another essential component is its dimensions, and hence it can fit into your jeeps sound system easily (depending upon its fitting). Let's look at some of these features in more depth:
Tweeter (Silk Dome)
The speakers in this unit are 6.5 inches and also a silk dome tweeter, which is edge-driven 3/4th inches. This dome ensures that there is no noise distortion, and you get a premium experience. 
The Woofer-Cone
The cone is, perhaps, the most critical element in these speakers. These woofers are built with injected carbon. Such an element makes the unit for stiff and enhances its durability.
Also, the cone is surrounded by rubber, and hence, you can be assured about compactness and flexibility with this unit.
The Crossover Network
The speakers from the JBL series have two crossovers, which is useful in balancing the tweeter and the woofer-cones. These networks are utilized for controlling the frequencies. They also have input and output terminals. 
Easily Installed
JBL speakers are always known for their ease-of-use features, and this one is no different. The simple installation aspect of this replacement speaker ensures that it also can be 'plugged-and-played" easily. 
Mounting
The GTO609C comes with in-built hardware, which is useful to mount it in a soundbar suitable for you. It's made to be suited for openings of 6-1/2 inches. However, some can fit in the 6-3/4 inches as well. If the openings are oversized, there are metal brackets to fit into them. 
The GTO609C hence covers everything that you are looking for in a compact system.
Pros
Sensitivity is high

Crossover network controls the frequency

Produces decent bass

Mounting options are easy

    
Cons
Using the brackets can be troublesome

Low impedance in Woofer 
Learn more about: Best Dash Cam For Jeep Wrangler
07. Polk Audio DB522 DB+ Series 5.25″ Coaxial Jeep Speakers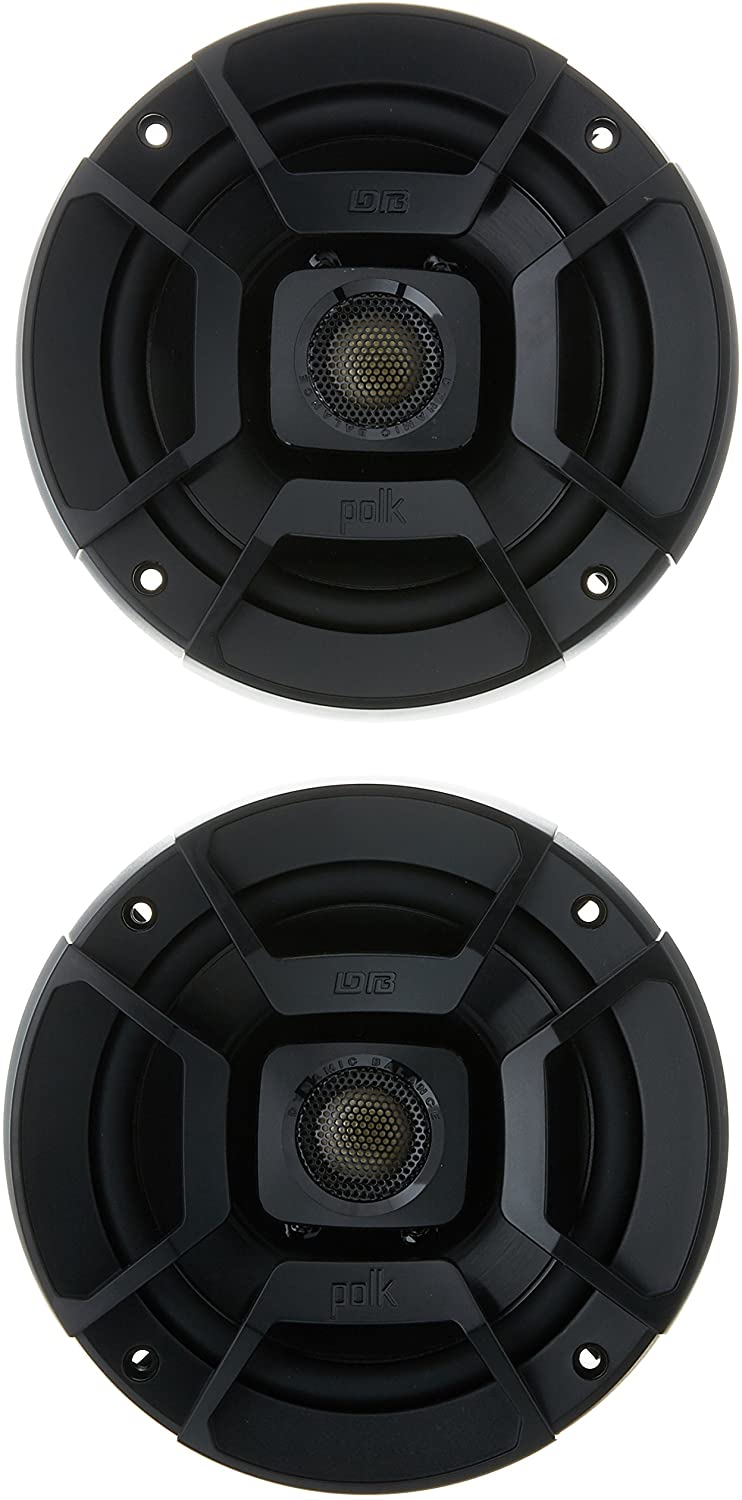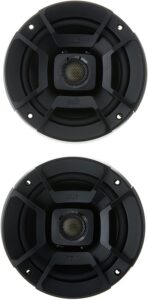 If there are speakers on whom you can trust performance, it is the DB522 from Polk audio. These speakers come with some remarkable features.
The significant aspect of the speaker is obviously, the sound part, which is quite natural and something which most jeep owners prefer.
With the DB522, you'll feel like you are in an auditorium or a jeep party. The Coaxial speakers come with a Mica Cone Woofer and a tweeter dome, enabling the unit to produce some massive and excellent sounds.
Tweeters and Crossovers
Since the DB522 comes with a silk dome tweeter, you can get an unmatched quality of music delivered insider your car interior. The speakers have in-built crossovers that are suitable to balance the highs and lows in the sounds.  
Frequency
The Polk audio is known for creating smooth frequency. Even when you are playing sounds at a high pitch, you won't face any sound distortion as these speakers can prevent it.     
Flexibility
The DB522 is quite a flexible speaker because it can operate with any applications or systems. Not only that but also their power consumption is less when it increases the output. 
Sturdiness and Security
The Polk Audio speakers can be trusted for their durability also. These speakers consist of strong grilles (ABS), which adds to their security and gives an enhanced look to the interiors of your jeep.  
Dirt-resistant
No jeep owners would want to see their speakers getting dirty after the usage for some time. There is no such issue with the DB522 as well as it can resist dirt, salts, fog, etc., which hamper its efficiency. Besides, they are waterproof as well. 
Hardware for Mounting
You will find hardware accompanying the speakers, which makes it simple to mount and install. Besides, these speakers are very easy to install anywhere, be it jeeps, boats, etc. 
Pros
2-way car speakers.

Waterproof and dustproof

Unmatched music quality

Easy to install

Mounting hardware included

Durable and long-lasting
Cons
High sounds can be very loud

Speakers might show inaccurate results (sometimes)
08. Vertically Driven Products 4U Sound-bar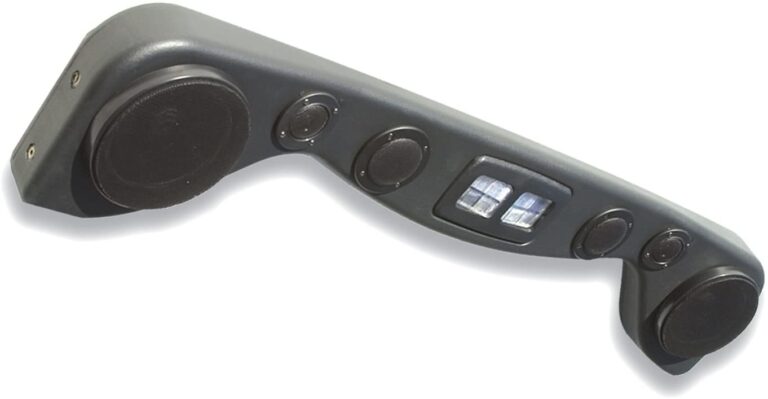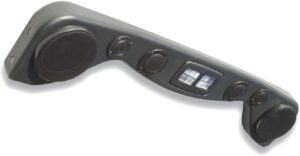 Whenever you think about an ideal soundbar for your Jeep, the 4U overhead soundbars are the way to go. The unit comes with six speakers made of high impact plastic. These are also weather resistant and can run under extreme conditions.
When you are looking to add a surround sound feature inside your jeep, especially when driving, these 4U soundbars can make your day. With it, you will get the "feel of thunder" when the booming sound effects hit you. 
Here is a brief into what the system has got for your wrangler:
Components Included
The 4U Overhead soundbar has a two-channel, and it's a speaker system capable of handling 200 Watt power. In this unit, you will find two six-inch woofers, two one inch-tweeter, and two two-inch mid-range speakers, which gives you ultimate sound pleasure.
Interior Lights
If you are fond of lighting in your sound-bar, the 4U model is the one for you. The dome light inside lights up your jeep's interior at the night time and hence you'll get the feeling that you are in a musical concert.
Custom-made Components
The entire unit consists of custom-made components, which means you can modify or alter the system according to the fittings inside your jeep. It is a facility that enables you to adjust the system as per your preference.
Durability
As the system is made of highly durable material, you can be assured about the soundbar's longevity. No matter how extreme weather conditions, the sound system won't lose its efficiency and will continue to offer you crystal clear sound.
Easy to Install
Since all the hardware and mounting parts are inside, you can easily install the sound-bar in your Wrangler. You won't face any hassles with the nuts and bolts, and there is no need to get yourself confused during installation.
Pros
Comes with six speakers

Can endure during severe weather

Offers a musical concert-like experience

Installation is easy 
Cons
Brackets do not bolt correctly
09. Kicker Speaker Upgrade Premium Quality Jeep Sound Upgrade Kit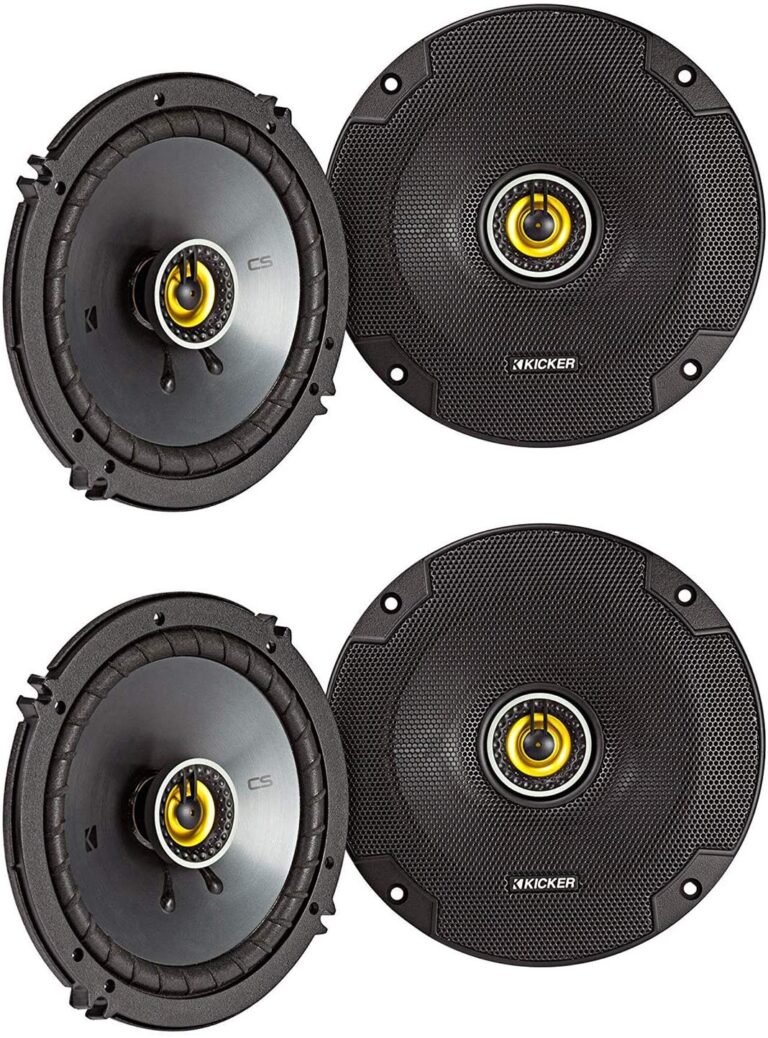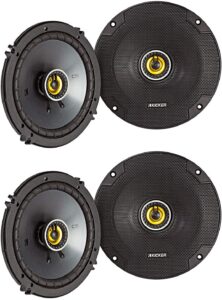 Upgrade your speakers in the Wrangler to experience a range of dynamic sounds. This pack comes with a set of two speakers you can use either at the front or the rear or sideways in your jeep's door for the way you'd want to enjoy your tunes.
The unit is known to generate a maximum sound output at a very high-frequency level and can run well at high power. The output power is 150 watts, and it can efficiently handle the power of 75 Watts (RMS).
Following are some details about the features:
Compact and Lightweight
Kicker Speakers are very lightweight, weighing three kilograms only. The 6.5 inches door speakers are very compact, which ensures that they fit into your jeep easily depending upon its size.
Delivers Best-quality Output
Because the speakers are upgraded factory speakers, hence you can be assured of premium quality that you can trust. These speakers produce an automotive sound the way you wanted them to play.
Designed for Running with all Applications
One of the Kicker's best features is that it can operate well irrespective of the applications that you want to run. They find no issues while running with subwoofers, tweeters, crossovers, and so on. 
No additional Cutting or Drilling Needed
Installing a replacement speaker in your jeep can be challenging, especially if you need to slice wires, input cables, etc. However, this is not the case with these Kicker speaker. Just use a screwdriver and install them. It is that easy!
Play Music Instantly
As already mentioned above, these speakers are easy to install, so you can now plug into your music and enjoy the way you want. The custom-built speakers offer you the 'instant play' option, and hence you can have the best audio experience.
If you have not yet upgraded your Wrangler speakers, upgrade it to the Kicker Jeep Speaker as it is worth its value. 
Pros
Installation is simple

Instant 'plug-n-play' option

Budgeted speakers 
Cons
The manual can confuse you sometimes

 
Learn more about: Best Floor Mats For Jeep Wrangler
10. CFE Jeep JK Premium Quality with High Definition Speaker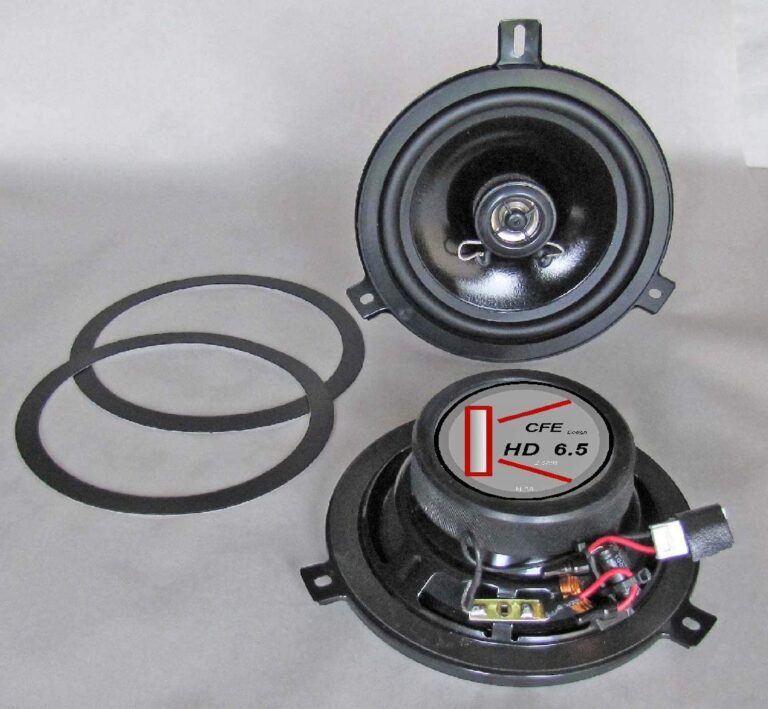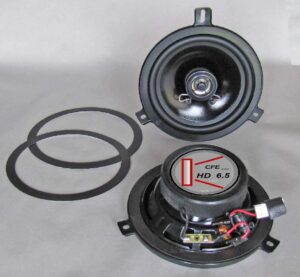 Light up the interiors of your jeep with the JK Wrangler Premium High Definition Sound Speaker Upgrade. The two in-built speakers utilizing reused factory grills will offer you excellent high definition sound. 
The appearance is something which you certainly won't complain about. However, the speakers in the bar are worth something that you must have. They are awe-inspiring ones.
Let's take a look at some of its features that creates the demand for it:
In-built Lights
The soundbar comes with in-built lights, which creates the night effect in your jeep. It is something you can enjoy, especially while driving your vehicle at night.
No Need to Drill or Slice
Another key feature of this unit is that you won't need to drill or slice wires during installation. Most jeep-owners can get harassed with so many cables and wires while installing soundbar speakers; this can be very confusing.
It is certainly not the case with the JK Wrangler Premium High Definition Speaker Upgrade.
Coaxial Design Speakers (2-way)
The speakers are 6.5 inches that are built for 'exact fit' in your jeep. Here you are not only getting a surround sound effect but a sleek design to back it up.
Woofer Cones (Poly-treated)
The Woofers are poly-treated, which means they are not only lightweight but also weather-resistant. What it means is that they don't fail to perform even under challenging weather conditions.  
PEI Tweeter
The PEI Tweeter in-built in the speakers helps in creating higher frequency in your music. Hence, your music will come to life. With this unit, you will feel the stereo-like feeling (coming from all around) when you are sitting in your vehicle.
Acoustic Pads Included
The soundbar comes with acoustic padding; hence there is no need to put any extra padding in it. Just follow the necessary instructions as per the manual, and you are done with the installation.
Pros
Easily installable

100% waterproof and weather-resistant

Great quality
Cons
Can sometimes cause issues at running at optimum power
Must Known Facts & Features of Best Speakers for Jeep Wrangler Sound Bar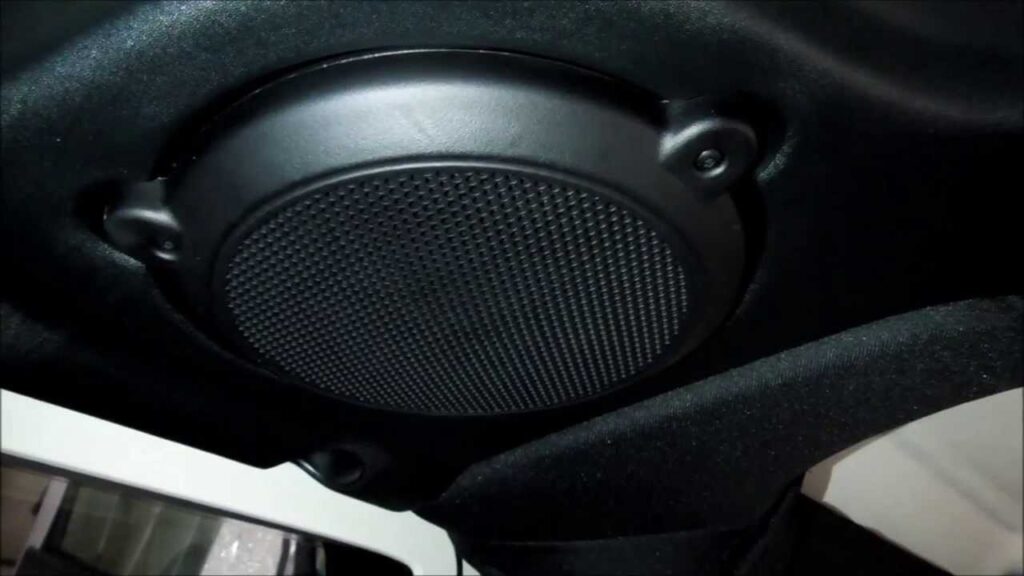 The Quality of Sound
When a buyer is looking to buy a speaker, this is the first and perhaps the most important thing to consider. When you check the range of frequency, you can get an idea about the speakers' music quality. 
The more extensive the frequency range is, the speakers can produce that much high-quality of music. Note that the frequency range is between 10 to 20,000 hertz. 20,000 is considered as a peak frequency, and ten being the lowest.
To gauge the quality of sound, you won't need the entire frequency range because there is no evidence that extraordinary frequencies will give you perceptible sound.
Sensitivity
When you want to know how much of a sound a speaker can draw-in from the power applied, you can get the measurement from its sensitivity.  If your vehicle sound system is a low-powered one. For instance, about an RMS of 15 watts per channel or lesser).
It's ideal that you pick speakers that have high ratings of sensitivity, like more than 90 dB. This is the case with most factory-installed speakers. However, if you have a high-powered sound system, having an RMS of 16 watts or more.
Which are found in external stereo amplifiers (aftermarket), than choosing a speaker with a low-sensitivity rating is your best bet. Once you are powering them appropriately, they will give you the best sound output.
How Much Power Can the Speaker Handle
With the power-handling feature, you'll have an idea about how much of a power your speakers can run efficiently. When the sound system is low in power, the speakers can't handle massive power.
Then again, for a system that consists of powerful external amplifiers, a speaker is required that can handle power as close as the output produced by the loudspeakers.
When we talk about the power-handling feature, we are not talking about the peak power the speaker can handle, but the power handling at the 'maximum RMS.'
By the RMS evaluations, it means in how much amount of power the speaker can run efficiently and continuously, not only for a brief timeframe. 
A system with an RMS rating of 2-50 Watts will match well with a low-powered sound system compared to another unit with an RMS rating of 10-80 watts.
Components of a Speaker
Consider what complements you want when you think about buying the best speakers for Jeep Wrangler sound bar. Every speaker has their distinct features. They come in different shapes, fittings, and parts too. 
At first, decide on the different options available to you. Is there a woofer you need or crossover you want to opt for? Or it's both you want? Flexibility is what the Woofers offer and provides the vibrating effect you'd need when you play beats. 
Check if the material in your woofer is a durable one. If you are looking for an alternate option of rubber, then cloth or foam can be the right choice. 
Mobility Factor
While buying a car speaker, mobility is another feature for you to consider. Most of us are looking to buy a stereo speaker when it can surround sound effects. It means we like the feel of the sound coming towards us from all corners. 
Nonetheless, every speaker doesn't possess the same capacity. However, if there are tweeters in your speaker with a pivoting feature, then it's ideal for mobility. When you want to mount your speakers in every corner of your jeep, look for one which can adequately make use of the space. 
When you have more than one vehicle and intend to evacuate the speakers of the former one to the enhanced one, then an ideal alternative is to get component speakers. Decide what you want, are you looking for a speaker that is a two or a 3-way?
If you want a 2-way speaker, you will get only a woofer or a tweeter. However, with a three-way, you'll get a mid-range, a woofer, and a tweeter.
Compatibleness Vehicle
When you buy a speaker, you must check if it's compatible with your car. It is a critical decision for you to make, as you won't want to run after the stores with the speakers to change it if they don't fit into your auto, which is quite troublesome. 
Look out for the speakers to find if they match the make and model of your car. The size and the configuration must match too.
Product Materials
A speaker's material structure will decide its strength and quality.
Woofer Materials
Your woofers' materials must be lightweight and stiff at the same time so that it can produce the ideal sound of music. To get more bass, chose a woofer made of materials like Polypropylene, a synthetic film. Mica is also a good choice when it is mixed with Polypropylene.
Titanium and aluminum are also a good option, and besides, you can also choose woven fabrics since all these are robust, lighter, and offer excellent output. Most importantly, these materials stand up well to warmth, cold, and dampness. 
Materials for Tweeters
*For your tweeters, it's ideal to choose hard materials like ceramics, graphite, or metal.
Best Jeep Sound Bar FAQ's: Learn More with Us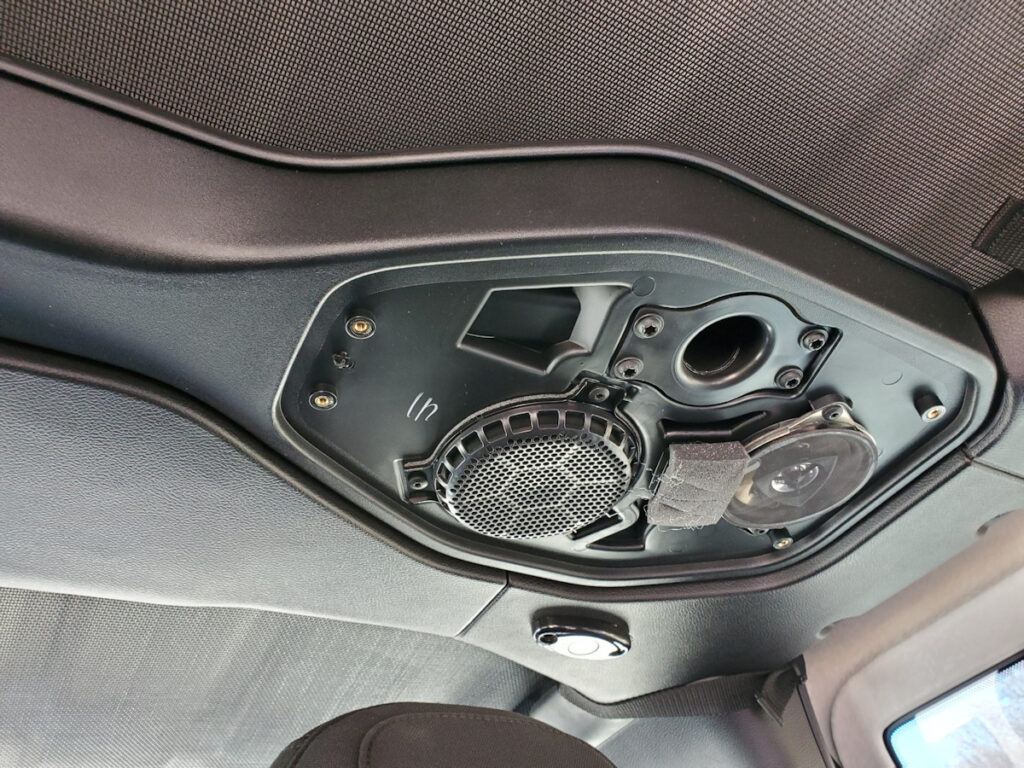 Q1. What is the size of speakers in soundbar speakers of the Jeep?
A: Inside the Wrangler, you'll find Chrysler or GM Woofers having an impedance of four-ohms. They are sized (or oversized!) ranging from 6-3/4-inches, which you can find on the overhead soundbar. 
Besides, there are also tweeters ranging from 3-1/2-inches. The woofers can be replaced with similar-sized units. For instance, 5 -1/4-inches, or 6-1/2-inches units.
Q2. How to better the sound of stereo for my Jeep JK?
A: When you include the subwoofer, it can be an ideal step to upgrade the Sound system of your Jeep. If your speakers can operate in high power and generate the bass-effect, you won't need any additional accessories.
However, if the speakers run in a low-power sound system, they might not be able to generate a profound impact on the sound you are looking for. In such a case, you will need to add amplifiers, enclosures to make the sound effect better.
Q3. Is installing new speakers a very challenging job?
A: Once you buy speakers, you'll find that almost all of them will have instruction manuals to help you during installation. Almost everything is demonstrated for you to do the job by yourself. The same thing applies to mount a speaker. 
However, if you still face challenges, then calling an expert is your best option.  
Q4. Are the speakers of a Wrangler waterproof?
A: In today's age, you'll find most of the speakers as waterproof. Not only that, but some of these speakers are also made in a way that they can withstand any severe climatic conditions. Hence, they can efficiently perform in any environment.
Q.5 Dual Car Speakers-What are they?
A: The term, most likely, refers to "dual cone speakers." If you are looking for an option that suits your pocket, then this is the one for you. With these speakers, instead of one, you will get a couple of paper cones. 
The standard cone, which is usually bigger, is highly unlikely to create high-recurrence sounds. Hence, if you are looking for an improvement in the quality, you will need to add the smaller cone.
Maybe, a marginally better bass yield, is what you'll get, however on the drawback, you will get contortions soon, especially when you increase the volume. 
When you are looking for something that can reproduce sounds, dual speakers are not ideal. Coaxial speakers are a better alternative as it would have a tweeter and a woofer in a similar speaker. 
The best option is component speakers regarding the car music quality (if budget is not your issue).
Q. 6 Because I am happy with my system, I am always looking to increase the bass to obtain more power. What can I do about it?
A: To start with, think about the substitution of power for your bass. If you are trying to crack the control of bass from your jeep, a lot of pressure will be put on your Jeep's radio.
If you include some additional bass control, you can equally distribute power throughout the radio itself. The quality of sound will also be improved with the addition of the extra bass. This is another additional feature that would bring you a lot of joy.
Q.7 Can larger speakers be placed in front for increasing quality?
A: This is where component speakers demonstrate its real utility. You can hide a few speakers in the different places in your jeep/car and derive maximum output from it.
Q. 8 What does the different ohms, for instance, 2 or 4-ohms impedance, signify?
A: When we talk about an OHMS, we refer to impedance or electronic resistance inside an electric circuit, which incorporates audio frameworks. If you check your car audio, you'll find the ohm ratings are usually 2 or 4. 
Provided that all the settings are the same, there is hardly any difference in performances between a two and a four-ohm speaker. A speaker, having an impedance rating on the higher side, will usually be a bigger one, and inside its voice coils, there will be more wiring.
This will bring about only a small difference in the weight, and also, the difference in loudness and audio quality will be minimum. When there is lesser obstruction, it will mean there will be better sound-quality. Hence, you will get louder sounds in a 2-Ohm speaker.
However, there will be power consumption in these speakers and also lesser quality. The electrical impedance at, at 4-ohms, will produce lesser output in terms of sound. The sound produced is of best quality and compact as well, and also the power consumption is lower. 
However, you won't be able to find out the difference of output, in audio, between subwoofers of two and four-ohm impedance, unless you are an expert in sound systems.    
Q.9 Can aftermarket speakers are connected using new wires?
A: An aftermarket speaker can be run efficiently using its in-built factory stereo. You would require new wires, though you can utilize the cables provided to you by your manufacturer.
Conclusion
There is a wide range of speakers that are found in the market, but when you choose the best speakers for Jeep Wrangler sound bar, you know that you are buying something phenomenal. 
You will find some of the best brands in the market regarding the speakers, which will be best suited for your Wrangler. The producers are very reputed and have been in the industry for a long time. Hence, they are undoubtedly trustworthy.
You can visit websites like Amazon.com, where you can verify the speakers' make and model to find out if they are suitable to be fitted into your jeep. Don't worry; you will find a lot of variety in the speakers, so you'll not run out of options.  
Finally, there are also upgraded speakers that come with better features than their previous versions. So, if you already have one, you can upgrade them for unmatched sound-quality.