Jeep Wranglers are unique breeds of vehicles that are a matter of pride and sophistication to their owners. That's why the best shocks for jeep JK are ideal to ensure that your wrangler has a longer service life.
Remember that the shocks are meant to absorb the vibration and the pressure generated on the spring's vehicle.
Best Choice
Don't Miss
FOX PERF. SERIES IFP SHOCKS (FRONT/REAR) compatible with JEEP WRANGLER JK 07-15 W/1.5-3.5" Lift
Rancho RS5000X Gas Shocks set compatible with 07-15 Jeep Wrangler JK with 3-4" lift kits
Best Choice
FOX PERF. SERIES IFP SHOCKS (FRONT/REAR) compatible with JEEP WRANGLER JK 07-15 W/1.5-3.5" Lift
Don't Miss
Rancho RS5000X Gas Shocks set compatible with 07-15 Jeep Wrangler JK with 3-4" lift kits
People buy Wranglers intending to go camping frequently on those uneven roads with cracks and muds, and these jeeps are meant to make their ride an ultimate comfortable one. 
Therefore, to ensure their off-road driving is of utmost ease and full of enjoyment, having some of the best shock absorbers fitted in a wrangler is the need of the hour.
Best Shocks For Jeep Wrangler JK
The 10 Best Shocks For Jeep JK
Go through the review of the following top-notch shocks to find out why they should be an integral part of a camper's jeep to make the best of their camping days.
Let's dive-in then:
01. FOX PERF All Necessary Washers IFP Shocks Compatible with Jeep Wrangler JK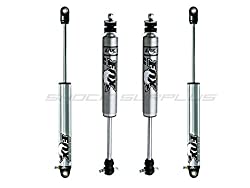 To enjoy one of the smoothest rides in your jeep on the bumpy, muddy roads, what you want in your jeep is these Fox series shocks. With them, your jeep will be capable of withstanding any jerks, vibration on the road, and you won't face any discomfort in your steering wheel while driving through these roads whatsoever.
Latest Technology
A significant advantage that these Fox series shocks have over their average counterparts is that they are designed with the latest technology that ensures your SUV/Jeep/truck offers you an improved performance off-road.
One of its significant features is the damping control system that enables you to control your vehicle smoothly on-road driving and on rough roads, which can otherwise prove extremely difficult to tackle. 
Besides, there is an internal mono-tube reservoir design (IFB) that differentiates the shock oil from the high-pressure nitrogen.
Longevity
Next, we come to the making of the shock absorbers. Every Fox series shocks are made of high-quality aluminum, which guarantees their durability. 
Its 2-inch metal-impacted body is a reason why it has a prolonged service life. As well as, it's strongly constructed body will ensure that no matter whatever kind of road your jeep passes through.
However, these shocks can handle everything with ease and keep your jeep stable throughout the travel.  
Rust-resistant
Not only its design gives a super durable finishing, but also its well-built structure ensures that it's always free from rusting for numerous years ahead.  
Rechargeable
One other important thing to note here is that these shocks can be refilled with nitrogen gas and are rebuildable.
Accessories
With the Fox series shocks, you get accessories like nuts, bushings, washers, etc., included as a package. Therefore, you won't need to buy any additional components from outside.
Also, these components are black-anodized-made, which is what the Wrangler owners love the most.
Easy to Install
Fox Series is easy to install as it comes with a 0-1 inches lift kit, which ensures a simple installation process.
Pros
Damping control

Rust free

Longevity

Strongly built

Installation is easy

Set of 4 socks

Accessories available
Cons
02. Southwest Speed Bilstein Front and Rear Shocks0 7-18 Jeep Wrangler JK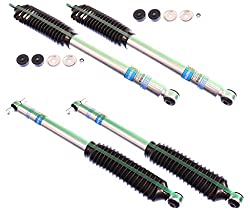 No doubt of the Bilstein 5100 shocks are one of the premium quality shocks that makes your jeep riding relatively smooth on any road. Such shocks are super durable and ensure extended longevity for your vehicle.
Design
The 5100 series shocks are high gas pressure shock absorbers structured to cater to lifted pick-ups, Jeeps, and SUVs. 
Stability on the Road
Stability is one of the essential qualities you want in quality shock absorbers, and you'd certainly get that in this Bilstein 5100 series. With these shocks fitted on your vehicle, you'll certainly be guaranteed a stable ride.
Damping Control
Such shocks provide super damping control ability, enabling you to control your vehicle on terrible off road conditions such as the challenging turns and most formidable terrains.
Therefore, not only you but also the passengers in your vehicle are ensured are safe drive. Another feature in these shocks is a digressive piston (46 mm) that contains deflective disc valving that can be self-adjusted.
Effective Cooling
Because of the high-gas pressure monotube design, these shocks can evenly distribute heat to the shocks' external surface, thereby giving a more cool effect on the shock absorber itself.
Rust Free
One major reason why these shocks have a more extended service is that they are free from rusting. Therefore, there won't be any compromise with its performance whatsoever, and you won't have to worry about replacing them either. 
Accessories
Along with these shocks, you'll get a complete set of nuts, bushings, and washers, which will help you install them easily. Hence, you won't require any additional components, hardware, etc., to buy from any other stores.
Pros
Monotube high gas pressure

Valving system (digressive)

Damping control

Effective cooling

46 mm piston

Accessories available

Easy installation
Cons
Font shocks' rubber can have issues
03. TeraFlex 1545200 Premium Quality Rubber 3″-4″ Front/Rear All 4 Shock Kit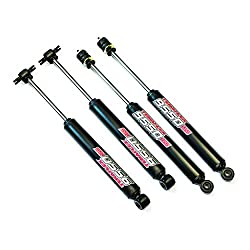 For those who are searching for premium quality shocks, the TeraFlex shock absorbers are worth consideration. It offers a 3 to 4-inches lift, which is just ideal for your Jeep Wrangler, especially while driving through rough terrains.
Design
One of the highlights of these shocks is their unique design, which ensures you can drive smoothly off the road irrespective of the cracks or the potholes the road might have. 
Durability
Because of its robust built, these shocks are durable, and therefore, they have a longer service life. This ensures your vehicle will have an improved service life irrespective of the number of miles you've traveled, and you don't need to worry about replacing your shocks.
Velocity Valving
Within this shock is a velocity valving mechanism (in-built), which is designed to respond along with the TeraFlax suspension system. Not only this, but it also has a rod (triple-chromed), which the shock to perform smooth and simple, and an oil block.
Stability on the Road
With TeraFlex shock absorbers, you can get guaranteed stability of your Wrangler while driving on more challenging roads. No way are you going to lose control of your vehicle while you have these shocks put on.
Accessories
Such a shock comes with premium quality bushings, which are there to improve the quality of the ride. Moreover, all the necessary components are readily available, so there isn't any need to buy any additional equipment for installation.
Easy to Install
Since all the necessary equipment is readily available with the package, you won't find any problems installing them. All the hardware available with this shock ensures you a hassle-free installation. 
4-in-1 Package
The TeraFlex shocks are available in a four-in-one package. All these shocks are twin-tube rear shocks, which always assure your Jeeps' enhanced performance. 
Pros
Velocity valving

Premium quality bushings

Easy to install

Stability and smooth ride

Suitable to all JK Wranglers
Cons
04. Fox 2.0 Shock Boots Performance Reservoir Shock Set Compatible with 2007-2016 Jeep Wrangler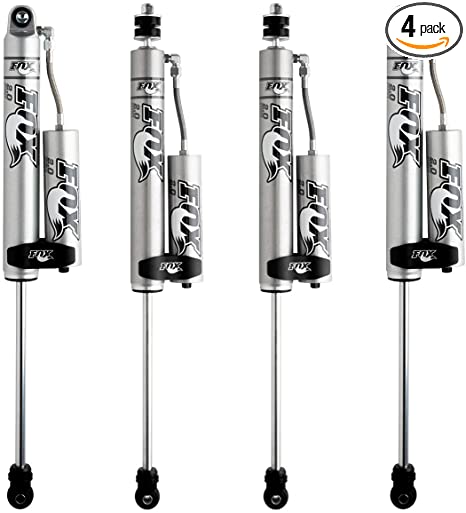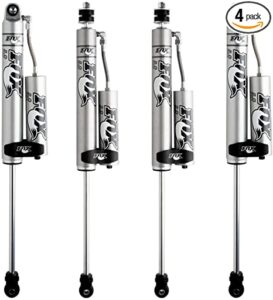 In terms of performance, there is hardly any better than this Fox performance series shocks. Such topnotch shocks are the must-have tools in your vehicle whenever you want your jeep to have a solid grip on the roughest of roads and can take any on-road challenge that it can possibly face.
External Reservoir
One massive advantage that such shocks carry is the inclusion of an external reservoir. Because of this reservoir's presence, there will be more storage capacity of oil and nitrogen within the shock absorbers.
Not only has this, but the reservoir also helps to reduce the heat and cavitations when the shock is used excessively. Thus, it also helps to eliminate the shock fade.
Design
One major advantage of the fox series of shocks is their design. Its well-built structure ensures it doesn't compromise on performance even under extreme pressure and guarantees a superior driving experience. Not only that, but it also has a longer service life, which means it can continue to run well even after several thousand miles. 
Accessories
Like all the premium quality shocks, the Foz series of shocks also comes with necessary components like nuts, washers, bushings, reservoirs, clamps, etc.
Therefore, this will help you to install the shocks easily without needing to buy any additional mounting tools are any mechanics' help.  
Set of Four Shocks
What you'll get in the package is a set of four shocks (2 front and two back) with four to six-inches lift at the front and four to six-inches lift at the back.
These lifts are very useful, particularly when you are driving through mud-filled roads or potholes.
Pros
External reservoir

Strong construction

All the necessary accessories provided

4 to 6-inches lift at the front and rear

Supreme control

  

Offers Stability while driving
Cons
Can be a little expensive
05. Rancho RS5000X High Quality Gas Shocks Set Compatible with 07-15 Jeep Wrangler JK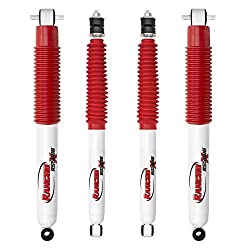 As we all know that Rancho is one of the top vehicle accessory producing brands in the world, and this RS5000X is one of the leading shocks that exists in the market.
Once you have installed them on your Wrangler, you can forget about the worries of traveling through those rough roads, as all your riding headaches will be taken care of by these shocks.  
Stability
A significant component to look for in a shock is whether it can provide the necessary stability you'd need while driving on uneven terrains without losing balance.
Indeed, one most significant factor to consider while you buy a shock for your wrangler.
Effective Valve System
One key aspect of this shock is that it has a valve system that pressures it up to 150 PSI, thereby increasing the jeep's spring rate, which then again allows safe at the same time a bump-free drive.
Smooth Control
Another critical component of these shocks is the shocks' body, which is two 1/4th inches, enabling a smooth flow of fluid, thereby ensuring you have effective control of the vehicle. 
Eccentric Disc
Inside this valve is an eccentric disc, which is also known as Progressive Engagement Valving, enabling you to control the vehicle smoothly and ensure stability.
Durability
Rancho products are reputed all over the world; therefore, there is no question regarding its durability. These shocks have an enhanced service life, ensuring you have improved performance from your vehicle for a long time.
Accessories
The entire RS5000X series consists of all the fitting components like nuts, washers, bushings, etc. Therefore, you can install the shock all your own without any assistance or any different types of equipment or hardware.
Pros
Stability

Progressive Engagement Valving

Effective Valve system

Accessories

Easy to install
Cons
Paint used in the shock isn't good quality

Nuts and brushing needs installation
06. Bilstein Includes Front and Rear 4600 Series Shock Absorbers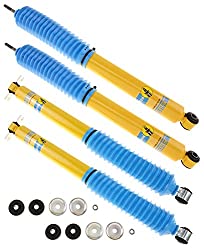 Owners of Jeep Wrangler always prefer adventure in riding with comfort as well. Therefore, the Bilstein 4600 series is the one every vehicle owner should bank on.
With such shocks, you'll have a superior vehicle performance guaranteed, and there will be smooth driving ensured on any road irrespective of the conditions.
Stability
Whenever you want a safe drive on the road, having a Bilstein 4600 series is something worth it. Such shocks will ensure you have adequate stability off the road while driving through the bumpy streets.
With these absorbers, you'll have ultimate stability in your vehicle and thereby ensuring safety not only for you but the passengers in it as well.    
Design
With the mono-tube gas pressure technology, these shocks can withstand any road conditions, thereby ensuring a smooth drive on any road conditions.
Not only that, with this 4600 series, you'll also have better handling of your vehicle, which helps in improved performance.
Longevity
Because of its robust construction, you are guaranteed a long service life, which means you don't need to worry about replacing these shocks in the distant future; they will give you a strong performance even after your vehicle has run several miles.
Therefore, as far as service life is concerned, you can undoubtedly trust their credibility.
Anti-rust
Another top feature of these shocks is the anti-rusting feature, which ensures these shocks run for longer durations and won't wear out quickly.
Easy to Install
With the direct bolt-on feature, you won't need any additional gear to mount the shocks; it's like a "plug-in-and-play" kind of stuff where you can install the shock yourself easily on your Wrangler.
Pros
Monotube gas-pressure technology

Ensures a smooth and stable ride

Easy handling

Easy installation with direct bolt-in feature

Longer service life
Cons
Bushings within the package aren't of good quality and won't fit properly

Nuts are difficult to screw on the shocks' top
07. Rough Country N3 Maintains Smooth 2.5″ Lift Kit Compatible with Jeep Wrangler JK 4DR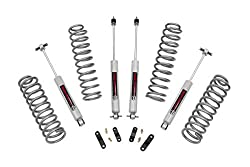 Whenever you think about durability, longevity, etc., the Rough Country premium shocks are the ideal ones to have for your Wrangler.
With these shocks, you Wrangler are ready to take any challenges that it faces on the road, such as bumpy drives, potholes, muds, etc.  
Unmatched Performance
With the premium quality N3 shocks, there is no doubt that you'll get an unbeatable performance from your vehicle. No matter whichever type of road you are traveling, these shocks ensure that you will get a smooth and efficient ride throughout your journey.
Factory-Like Ride
Because of the tuned coiled springs' efficiency in the shocks, it offers a Wrangler owner a silky-smooth factory-like ride without any worries of losing control over the vehicle.
With the front-rear shocks, it's ideal for maintaining the balance of your vehicle off the road.
Longevity
Longer service life is in demand for every shock today as no one wants to replace them as they can get exhausted after running a few miles.
However, with these N3 shocks, there is no issue of longevity whatsoever. No matter how many miles your jeep has run, these shocks will continue to offer superior performance.
Easy to Install
With the necessary kits available with the package, there is no need to buy additional gear to mount it in your jeep. All the needed accessories are available inside the package, which makes it easy to install.
Compatible to all Wranglers
One of the essential features of these shocks is that they fit in all the Wrangler models. Therefore, its design ensures that you don't need to worry about which specific make or model of Wrangler you are driving; they will easily fit in on almost every jeep.
Pros
Unmatched performance

factory-like ride

Installation is easy

Supreme control off and on the road

Compatible to all Wranglers 
Cons
Doesn't level the ride well sometimes   

  
08. Rancho RS5000X High Quality Gas Shocks Set for Jeep Wrangler 4WD JK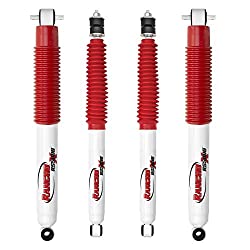 Rancho has launched its premium quality RX 5000 S series as a reputed vehicle accessories producer, which offers you unbeatable control and grip on all roads.
People looking for supreme control of their wrangler while driving off the road, these shocks are something they must have.
Stability on and off the Road
As already mentioned earlier, you'll get the much-needed stability while driving off and on the road with these shocks. Forget about those steep turns and the toughest of terrains; just enjoy your ride with these best shocks for Jeep JK.
Therefore, this is all the more reason for you to buy such a quality product.
Smooth Control
One other component of such shocks is its body, and because of its smooth body structure, it enables a smooth fluid flow, which ensures that a Wrangler owner has sufficient control over their Jeep on any road.
Disc System
With the Progressive Valving system inside an eccentric disc, you can have your vehicle's smoother controlling capacity. Because of this, you'll have much-needed stability on your vehicle while driving through uneven roads.
Durability
One thing you can be guaranteed with this RX5000 series is its durability. As Rancho is one of the most reputed vehicle accessories manufacturers globally, all their products are of top-notch quality.
Therefore you get a product which can last for long and continue to offer you supreme performance.
Accessories
Similar to most other premium shocks, the RS5000X comes with all the necessary components necessary for easy installation. With this kit, you'll get the needed bolts, washers, nuts, etc., as a package.
Set of Four
Such shocks are available with four (two front shocks and two rear shocks with 0-2" lift, which is necessary while traveling on muddy and dampened roads.
Pros
Stability

Easy to install

Necessary components available
Cons
09. Fox Pear Series IFP Shocks Compatible with Jeep Wrangler JK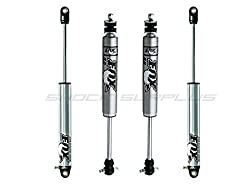 Fox series offers you the premium quality shock that will make your Wrangler driving a fun-filled moment. You don't need to worry about the road's extreme conditions when you have these shocks in your jeep.
Just install them, and they will take care of your safe and enjoyable diving both on and off the road.
Control
With the damping control system, you will be able to smoothly control your vehicle on any road, no matter if it's a pothole, muds, or cracks, which won't have been possible with any ordinary shocks.
Modern Technology
One of the most significant advantages of using these shock absorbers is that you get the assistance of modern upgraded technology in your jeep.
Such shocks are designed to ensure that they can offer your jeep/SUVs/trucks a much-improved performance, especially off the road.
Rust-resistant
Rusting is often an issue that vehicle owners experience with their shocks, but not with these Fox series of shock absorbers. Because of their premium quality making, they won't rust and will continue to offer you an enriched experience driving for longer miles.
Longevity
Due to its anti-rust body, these shocks would last long without compromising on the performance whatsoever. No matter how many miles your vehicle has run, you won't need to worry about these shocks' service life whatsoever. 
Rechargeable
One other aspect of these shocks is that they can be refilled with nitrogen gas and can be rebuilt.
Accessories
Along with the shocks, you will get all the necessary components necessary to install them, like the nuts, brushings, washers, etc., which is why installation becomes much more comfortable.
Therefore, you won't require buying any additional hardware or other gears to mount it. 
Pros
Rust free

Longevity

Damping control

Easy installation

Four shocks in one pack

All installation accessories included
Cons
10. Rancho RS5000X Premature Failure Gas Shocks Set Compatible with 07-15 Jeep Wrangler JK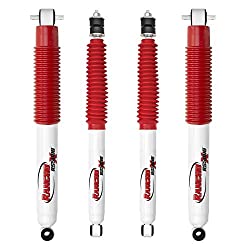 Quality is the first and perhaps an essential thing that you get with these gas shocks.
No matter whichever type of road you are driving, you'll have a smooth driving experience, particularly on uneven roads or the one full of muds, cracks, etc.  
Stability
Whenever you drive for camping with your Wrangler through the uneven roads, you'd need stability. With these shocks, you'll exactly get that.
Having these shocks in your vehicle will ensure that you can have the balance necessary while traveling through uneven roads.
Longevity
Being a premium brand, the RS5000X shocks offer you the longevity you want from your absorbers.
Especially since your jeep will be traveling through the bumpy roads, which can present you many challenges while you drive through them.
Guaranteeing enough stability will ensure you don't need to worry about issues with your jeep's balance whatsoever.
No Rust
One major reason why these shocks last longer are because they don't rust easily. Therefore, you don't need to worry about its service life as it will continue to offer you the support for longer miles of driving.
Accessories
You will get with the RS5000Xseries the necessary nuts, bolts, bushings, washers, etc., needed to install the shock. Do not worry about buying any additional components or other hardware to install these shock absorbers. 
Fits in all 4WD Vehicles
One essential characteristic of this shock is that it fits all 4WD vehicles irrespective of the make and model. 
Easy to Install
Because these shocks come with components included, you won't need any help from any mechanics to install these. The RS5000X series comes with an in-bolt feature, so you can simply mount it in your vehicle using the components included.
Installing these shocks is simple DIY stuff.
Pros
Easy to install

Stability

Anti-rust

Available in a set of 4

Accessories included
Cons
Buying Considerations for the Best Shocks for Wranglers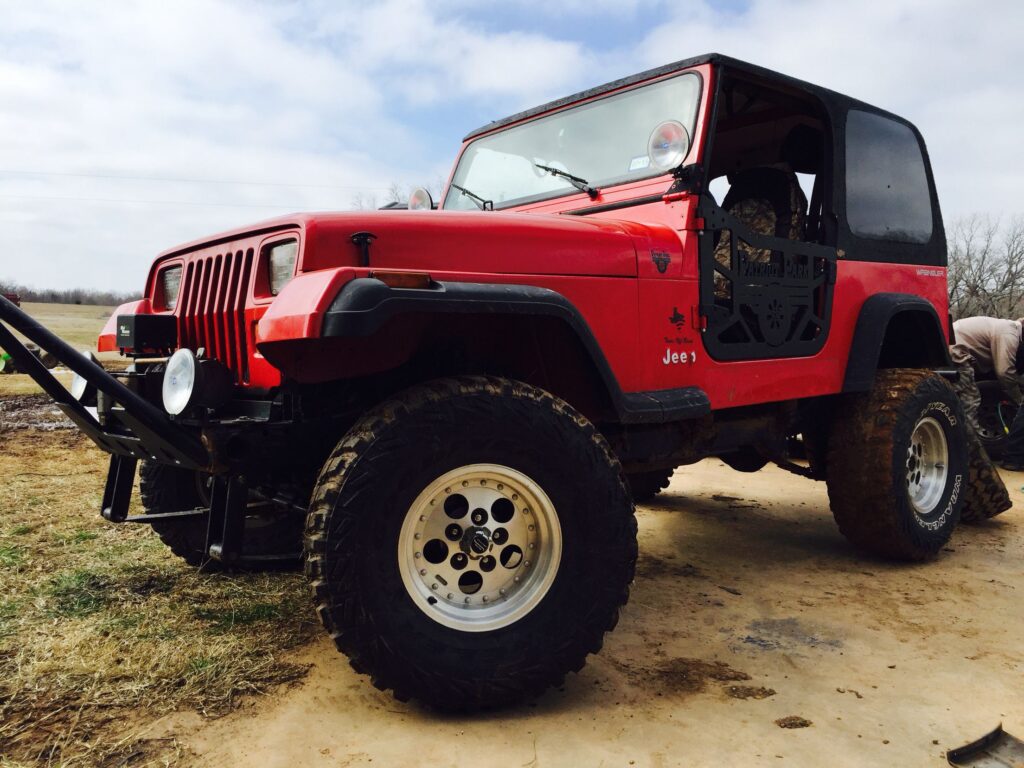 Now that you've had an idea about the types of shocks available in the market, here are a few things you need to consider while buying the ideal shocks for your jeep.
Style as well as the Condition for Driving
People who spend a lot of time driving on the highway must have the best shocks installed on their jeep. If not, you will require installing different types of shock, especially driving off the road.
Under these circumstances, you will certainly be looking for those models intended more toward the trail. 
Types of Best Shocks For Jeep JK
While searching for different types of shock absorbers, numerous shocks will be available for you to choose from. One typical factory-replacement shock is the twin-tube shock, yet that is certainly not everything you'll be looking at. 
One other significant shock is the mono-tube shock consisting of a single-pressure tube having a couple of pistons, namely the working and the dividing pistons.
Because of how it's made, it's possible to be mounted upside down or on the right side without any problems as it will run fine irrespective of how you position it. 
Such shock absorbers are ideal when you drive off the road in your Wrangler because it helps to keep itself cool even under extreme road conditions due to better heat distribution.
A few other shocks worth looking at include heavy-duty shocks, automatic level control shocks, overload shocks, air shocks, etc. 
The Style, Size, and Shape of Shocks
Some other essential things to consider while buying the best shocks for jeep JK are the shape, size, and style. A few people want to match the current style and the size of the existing shock on the Wrangler.
However, if you need something stronger, you might switch to something heavy-duty. 
Shock Measurement
The bigger the shock measurement you look for, the more your suspension will be capable of dealing with.
Numerous individuals who like to take their Jeep rough terrain decide to go with a bigger shock measurement than your Wrangler's existing ones. The bigger the width you buy, the more the cost will likewise increment. 
Materials Utilized in Making Shocks
Whether your chosen shock absorber for your Wrangler offers you the ideal control and the best comfort while driving, it might still not be up to the mark when it's time to replace it after you have driven a few hundred thousand miles.
Hence, you'll ultimately invest heavily on buying shocks, which can put you under a lot of pressure budget-wise in the long run. 
Therefore, before everything else, check the material of the shock that you'll buy for your wrangler, then you can see whether it fit enough for your jeep and other things.
Numerous materials are used to manufacture shock absorbers, and most of them are steel-made. 
More often than not, you will find that these steel shocks are the cheapest available in the market. However, the issue is that though they might be the cheapest, you'll face problems installing these.
Apart from these, there are aluminum-made shocks that are lightweight and can be adjusted easily.
But, though you may find these shocks convenient for handling, they will, in general, be significantly more costly. 
Installation Ease
For those who want to install the shocks on their own and ease, the easiness of the installation needs to be considered.   
One must remember that a few shocks require further modifications so that they can be installed appropriately.
If you aren't aware of the techniques for installing these shocks, you might have to pay a substantial amount to an installation expert or an agency. 
However, if you actually want to do the installation without help from anyone else, ensure that the item incorporates a mounting pack and a guidance manual so you can continue with the whole process of installation all alone. 
If the shocks you've chosen don't need any modification, you'll find it very easy to install them by adhering to the specific guidelines that accompany the package. 
Compatible to your Jeep
Compatibility to your Wrangler is one of the most (if not the most) important aspect while buying shocks. No one will ever buy any shocks that unsuitable (fitting-wise) for their jeeps.
Cost
Finally, pricing is what all it comes down to. Every wrangler owner sets up a budget that he/she is willing to spend on buying shock(s).
Next, they go through different shocks and pick the ones that fall within that budget. At times, you might consider your vehicle and think whether spending on a costly shock is worth it or not.
For instance, if you own a lifted Jeep Wrangler, you ought to hope to invest more in a shock absorber contrasted with an ordinary JK.
Therefore, whenever you look to buy the ideal shocks for your jeep wrangler, make sure you consider these essential factors to make a perfect buy.
FAQ's on The Best Shocks for Jeep Wranglers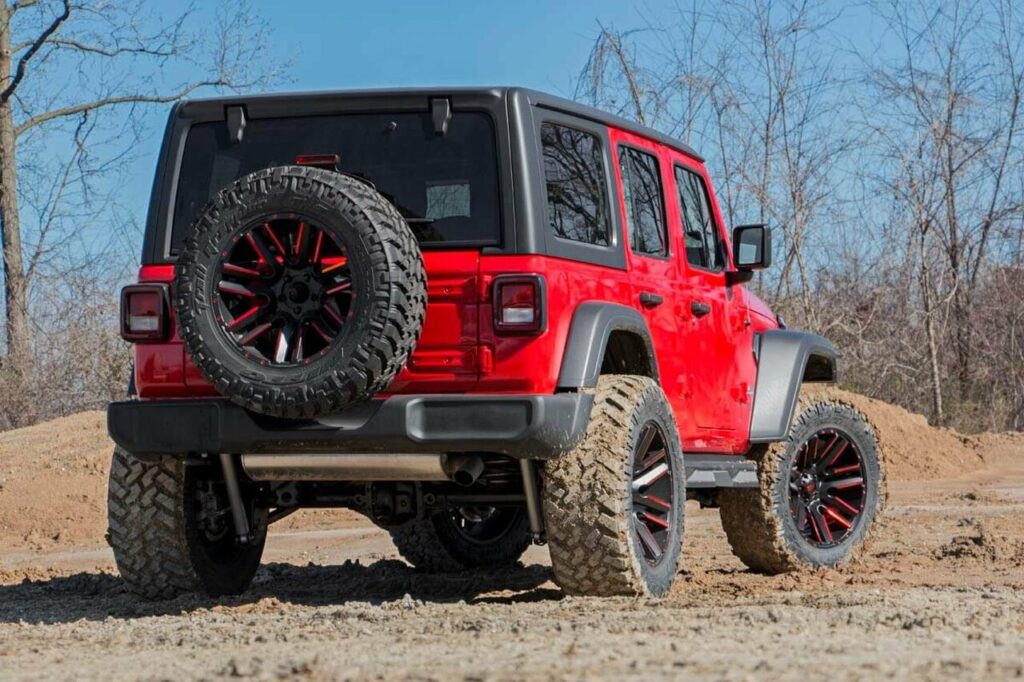 Q: Is it better to buy mono-tube or twin-tube shocks?
Ans: Monotubes and twin cylinders are two different sorts of shock absorbers having different designs and functionalities altogether. 
As clarified prior in the section of buying consideration, a monotube shock accompanies a solitary cylinder where all the segments are available. 
Inside a monotube system, there is a shell case that functions as the chamber. Inside the chamber, the other available segments are the oil, gas, and cylinder/piston. 
However, a twin-tube shock comprises two chambers: one fund within the case and the other containing the piston valve that continues moving upwards and downwards. 
While every one of them has its own features and capabilities, the ideal answer regarding which is the better is certainly the monotube shock. 
One valid reason that justifies this point is that people have found it relatively easy to install the monotube shock, and they have superior response and an adequate damping capacity.
Subsequently, you can anticipate a smoother and less rough ride. However, the best shocks for Jeep JK undoubtfully is the right choice.
They're likewise tougher and can handle rough terrain driving conditions easily. Notwithstanding, they do cost significantly more than those twin-cylinder ones, yet the benefits they carry can undoubtedly make them worth the investment. 
Q: Is there struts or shocks available in a jeep?
Ans: Jeeps, much the same as other vehicles, have their own set of struts and shocks.
Aside from giving you a less rough ride, these struts and shocks handle the side-to-side movement to ensure that you stay safe during your drive on the streets in your Wrangler. 
You can know whether there is a strut or a shock in your jeep by knowing which specific territory to look at. A shock is easy to identify since they resemble similarly to what can be found on the bikes. 
However, it can be hard to find the struts, but you can still find them easily inside your jeep's wheels with a horizontal design. 
Q: What are the functions of shock absorbers?
Ans: As you might have got an idea by the name itself, shock absorbers "ingest" or diminish the bumpy and vibrating impacts that you experience when driving through uneven surfaces.
With the shock absorbers installed, you will enjoy an enjoyable and smoother ride. 
Besides that, shocks likewise help control the movement of your Wrangler, permitting you to advance your vehicle's brake performance while improving the steering responsiveness overall. 
Q: What the reasons for shocks getting exhausted? Does it affect driving?
Ans: Shocks, for the most part, get worn out when you regularly utilize your Jeep. Other things incorporate the typical capacity you are loading into your jeep, the total distance you have traveled, and climate factors like cold and warmth. 
However, the shock absorbers of those jeeps that are frequently driven on roads wear faster than those driven on rough terrains. 
A major reason for this is due to the presence of speed-decreasing bands, the asphalt type, several crossings for pedestrians, and more.
 Likewise, exhausted shocks can definitely affect your driving. One of the most well-known proofs indicating that worn-out shocks can influence driving can be found in quick stoppage gaps while you drive. 
As your shocks get exhausted, you will feel more vibration in the steering wheel while driving. One reason for this is because your shock is not, at this point, fit to absorb the pressure generated from the ground.
Keep in mind that this can heavily impact your comfort and be risky for you if you don't take care of it soon. 
Q: When it's the right time to change the shocks?
Ans: Jeep owners need to replace the shocks under the two situations mentioned beneath: 
Once the shocks are exhausted – this can be determined when you locate consistent ricocheting while your drive, even if the streets are good enough. 

When you are looking to lift the Jeep, for which you'll need a lengthy shock. 
 Q: Is it better to choose OEM shocks or settle for used or pre-owned products?
Ans: A few Wrangler owners prefer OEM shocks as the best and just suitable substitution alternative for their vehicle. Besides, it is easy to install the OEM shocks.
However, OEM shocks are very costly. Because of that, many Wrangler owners go for reseller's exchange shock absorbers intending to save money. 
Contrasted with OEM shocks, secondary selling shocks are produced by different organizations rather than the very organization that made your Wrangler. 
Accordingly, if you don't do your research properly, you might bring a low-grade shock for your vehicle which might need to be replaced soon.
All in all, you don't want to buy anything that's of no use or low quality and doesn't fit your vehicle at all.
Therefore, whenever you choose to buy the best shocks for Jeep JK, always check the market, read the specs, and get the ideal shocks.
Conclusion
Ultimately, it all comes down to your choice, it might be your personal preference to buy and specific shock. Alternately, it can depend on many other factors as well.
However, for those who want to not only secure themselves and their vehicle on bumpy roads. At the same time, enjoy a smooth and comfortable ride, then there are none better shocks than the ones listed above.
For your help, here is also the links to the products mentioned so that you visit them on Amazon (or any other site you prefer) and check the specifications of the products yourself to find the perfect match for your vehicle.
As a suggestion, if you want a comfortable ride on the toughest of terrains, then always go for mono-tube shocks. Such socks are the best shocks for Jeep JK regarding longevity.
As well as, ensuring that the impact of vibration from the ground is as less as possible (almost as negligible that you won't feel at all) on your steering wheel and the vehicle overall.